Aluminium Windows
At UPVC-Online we don't believe that you will find better aluminium windows. As well as a great choice of styles and designs, all delivered quickly and with excellent customer service, our fantastic range of 1-4 pane slim aluminium windows are:
Complaint with building regulations for thermal transmittance

Excellent in weather and sound performance with British Standards rating (BS6375 Pt 1)

Open out windows

Internally or externally beaded

Fixed light with trickle ventilator

Have side light openings

Secure with high security glass and cockspur or shoot bolt locking options

Easy to install

Left or right hanging

Available with lever handles with locking mechanism

Available in dual colour options
Contact us now for an exact quote based on your specifications. Or if you have any questions, want some advice or just want to speak to a human being then call us on 01908 711556.
Smarts Aluminium "Alitherm" 47mm Window
600mm by 900mm
UnGlazed
£125.29 + VAT Delivered

Profile: Smarts
Example size: 600mm by 900mm
Colour: White
Cill: 150mm
Furniture: White with shoot bolt locking
Smarts Aluminium "Alitherm" 47mm Window
1200mm by 1040mm
UnGlazed
£200.04 + VAT Delivered

Profile: Smarts
Example size: 1200mm by 1040mm
Colour: White
Cill: 150mm
Furniture: White with shoot bolt locking
Smarts Aluminium "Alitherm" 47mm Window
1800mm by 1040mm
UnGlazed
£323.09 + VAT Delivered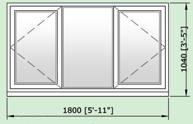 Profile: Smarts
Example size: 1800mm by 1040mm
Colour: White
Cill: 150mm
Furniture: White with shoot bolt locking
Smarts Aluminium "Alitherm" 47mm Window
2400mm by 1200mm
UnGlazed
£416.24 + VAT Delivered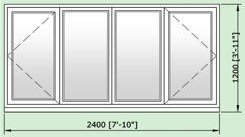 Profile: Smarts
Example size: 2400mm by 1200mm
Colour: White
Cill: 150mm
Furniture: White with shoot bolt locking